Taking bookings for your restaurant up until now has either been through an email form on your website where you always had to get back to the customer and ensure that you weren't overbooked or you could use one of the online booking companies who charged per seat or table to take your booking.  Either option was not ideal for restaurant owners wanting a cost effective way to take bookings from their customers that is quick and easy to use.
After discussions with a wide range of our customers, the Team at Marketing4Restaurants built Book A Table.  Many of the features of Book A Table have been designed with the help of many of Australia's great restaurants, so it has the features that you need to run your restaurant better.
Here is a list of the ways that Book A Table helps restaurants.
Take bookings 24 hours a day – people plan where they are going to eat at all hours of the day.  Some book in the morning for that evening and some book late at night, often at times when your restaurant is closed.  Taking restaurant bookings online allows you to take bookings when your customers want to make the booking and get away from customers having to leave a message on an answering machine.
Less time on the phones – Taking bookings during service is a hassle.  Online bookings come in without any work from your staff, meaning you can focus on providing the best service possible, not answering the phone.
Stop customers looking around at alternatives – Once a customer has made a booking, they stop looking for a place to eat.  If they can't make a confirmed booking when they want to they will keep looking, so taking the booking locks your customers in.
Control the yield of customers from your Coupon Campaigns – We have quite a few customers using Book A Table on a hidden page that they direct customers who have bought Scoopon, Spreets, Groupon or other daily deals site coupon.  This has many advantages – less time spent on the phones taking the bookings, collecting their email details for remarketing to them, not advertising the fact that they are running a discount coupon campaign  and you can use Book A Table to ensure you aren't full on Saturday nights with discount customers.  We've written an article before about best practice daily deals campaigns.
Build your database – Taking a booking online is the perfect opportunity to build your database of emails and emails are one of the most effective ways to turn new customers into repeat customers.
Cut the costs of taking bookings online – There are some companies out there offering online booking widgets for restaurants where the restaurant is charged per seat or per booking.  We think this is unfair because charging per seat can be very expensive – hundreds if not thousands of dollars every month.  This charge is not related to any performance, because it is from a restaurants own website.  If you run a marketing campaign, paying to take the bookings on their own website is just a tax on your own marketing.  We have analysed a lot of data to show just how much traffic some of the referral sites generate.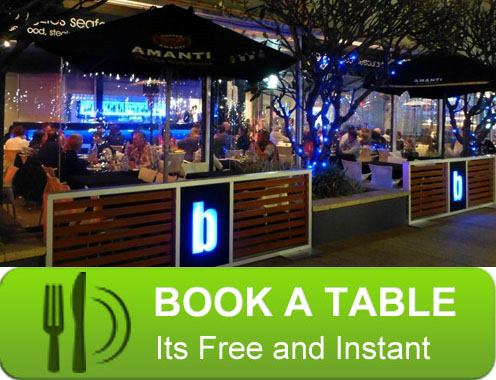 Some restaurants are saving over hundreds and some are saving thousands of dollars every month by moving to Book A Table and cutting the costs of taking bookings online
Book A Table is a free add on available to our web customers and available to as a separate component for just $39.95 per month.  For restaurants looking to grow their database of customers, looking to decrease the amount of time spent on the phone or looking to cut the costs of taking online bookings from other providers, Book A Table is a great way move your restaurant forward.
REMEMBER – Taking online bookings frees up staff, is convenient for your customers, helps you build your database and if you are paying to take bookings on your own website now, it is an unnecessary charge that you no longer need to pay!